My Family Tree in Photos, at a glance!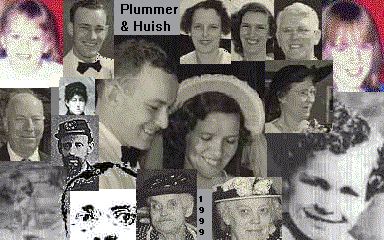 Starting with the Plummer line:
1. Richard Plummer born about 1750 his barn
2. John Plummer
3. Isaac Plummer married Susannah Skelly
4. Thomas Plummer married Maria Clark
5.Sylvester Plummer 1868-1929 married Catherine McDonald
They had 4 children, all born in Cambria County, PA, Emmett, Margaret, and Thomas and
6.John "Jack" Plummer moved to Indiana and married Esther Moore
7. Marjorie shown with daddy Jack married Robert Huish
Here are pics of the couple and their parents, my parents with Mom's Grandma Mary & Great-Grandma Martha, and finally of Mom and Dad cutting the wedding cake. Mom and dad met due to their mutual love of horses.
They had 8. sweet little me, Kathy Huish my brothers Lance and Rob, and sister Carol, (all on next pic) and
9. a whole bunch of grandkids at the bottom.
Henry Lumm (group Lumm picture, Henry is far left in back) married Martha pictured with her daughter Mary and son-in-law James Moore. Mary Lumm married James Albert Moore and together they had two daughters, Esther and Hilda Moore. Esther married John "Jack" Plummer listed above, thus creating the 4 generations of women ancestors shown there, along with sister Hilda.
Now for Huish's...
Samuel Huish born about 1775 had John, John born 1802 had George Huish born 1939. George had William Huish. William married Martha Jane Price had Eugene and Ben as well as a a whole bunch of Huish kids and then they grew up. Eugene Huish married Lela Paulus, who grew up on a farm with her father Henry Paulus shown holding my dad. And the Paulus's had a neat old car, though not sure why great-grandpa Henry seems to be hitting someone with a pan!
View the entire entire family tree with family group sheets, or

Back to:
Firstmom's Genealogy Resources!
You are number

to visit this family.

Webmaster: Kathy Huish
Indiana
Copyright © 2000, 2001 Firstmom's Genealogy

Family History Banner Exchange